Enfield Headteachers - Working Together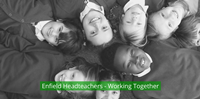 Karen Jaeggi and Dominic Smart are hosting several Zoom conferences to which Enfield Headteachers are welcome to attend.
Below you will find the different conferences along with dates, times and joining instructions.
We will keep this updated to reflect new things being added.
To your right you will see documents that are discussed and shared from the conference.
In this unprecedented time, working together could not be more important. As a result, we have decided to hold some Zoom conferences in relation to the biggest issues we currently face. While we cannot promise all the answers, these will be a great opportunity to:
Ask questions
Share good practice, solutions and advice
Formulate solutions together
Details
Each conference will be held via Zoom. Each participant will be asked to mute their microphone and indicate on the chat if they would like to contribute. The nominated chairperson will facilitate the discussion. The conferences will be kept focussed and adhere to timings.
To book your place, please email Anita Vaghela: anitavaghela@attigoacademytrust.co.uk
Dominic (EPHA Chairperson) & Karen (CEO Attigo)
What is going well?

An opportunity to share problems and solutions in regards to the 'new normal' currently in schools.

Organisation arrangements –start and end of day, bubbles, movement around the building, break times – day to day
Managing key worker bubbles
What are the challenges and how have you overcome these?
Putting in place a framework for extending the opening of your school – use this as a working document
Role of Leaders – post lockdown calendar of events
Remote learning
How do you occupy your support if they are working from home?
Staff with additional hours
Reaching our vulnerable pupils

Issues for consideration

Covering staff sickness
Managing staffing levels
Wider opening of schools to other year groups

17th June 11am

Agenda

Introduction – Dominic Smart (2 mins)

Facilitator – Karen Jaeggi (5-10 mins per topic)

The Road to Recovery

An opportunity to look at some ideas about what the curriculum will look like when the majority of children are attending school.

Core Foci:

The Recovery Curriculum

Adjusting your school's Development Plan

What does a recovery curriculum look like? – PHSE programme with key themes
Strategies and further PHSE suggestions taken from transition, recovery and learning in the aftermath of a pandemic.
Re-focusing on the basics – phonics, number work, PE, creative release through art and drama
Reviewing remote learning – time to evaluate and plan for September – what is the impact of home learning and how can we measure this? What would I do differently
School improvement plan – key themes to include – PHSE programme, SRE, remote learning, disadvantaged, online platforms for staff development, safeguarding, provision for SEND pupils
Racism – addressing inequalities and talking to pupils about race and racism

19th June 11am

Agenda

Introduction – Dominic Smart (2 mins)

Presentation – PHSE Lead Attigo Trust (10 mins) followed by questions (15 mins)

Facilitator – Karen Jaeggi

Expert – PHSE Lead Attigo Trust

How are your team?

An opportunity to share problems and solution in regards to your staff. An opportunity to receive expert advice from our School's Personnel Service as well as other colleagues.

What are the key staffing concerns?
Dealing with staff anxiety and supporting them to return to work
What do you do if a member of staff is not engaging or refuses to return to work?
Risk assessments for individual staff
Parental leave
Supporting staff in the clinically vulnerable category
Clarity around staff who suffer from asthma
What evidence of medical conditions can I ask for?
Dealing with difficult situations where a member of staff has moved in with someone who is clinically extremely vulnerable
Managing union expectations

23rd June at 11am

Agenda

Introduction – Dominic Smart (2 mins)

Facilitator – Sarah Fryer (SPS)

Expert – Sarah Fryer (SPS)

What will September look like?

An opportunity to share ideas for what schools will look like in September. What will you be able to do? What will have to drop off? What should be a priority?

Linking home learning and teaching in school – teaching and consolidation
Think about recovery curriculum
Exploring different models - looking at what independent schools are doing
Improving pupils access to IT
Focused curriculum – capturing a baseline – not narrowing but an emphasis on certain subjects
Catch up programmes
SRE curriculum
Implementation of the curriculum

26th June at 11am

Agenda

Introduction – Dominic Smart (2 mins)

Facilitator – Karen Jaeggi (5-10 mins per topic)

Ofsted Ready

What might a new inspection format look like? If you are due an inspection how can you still get ready? What is the latest advice?

Collecting evidence – demonstrate pupils progress from September to March
Remote learning – impact
Case studies with pupils learning and experiences during lockdown
Predictions for end of 2020
Curriculum – is the intent clear
Curriculum – plans for implementation
Sutton report and impact for disadvantaged pupils
Pupil views about the experience of online learning
What support has been in place to engage pupils in online learning
Keeping evidence of community support
IEPs/annual reviews
Chronology if appropriate
Progress against previous targets

TBC

Agenda

Introduction – Dominic Smart (2 mins)

Facilitators - Karen Jaeggi & Alison Martin

Experts - Karen Jaeggi & Alison Martin
How effective is remote learning?

What are the benefits of using google classroom to support remote learning?

What are the benefits and barriers to pupils using google classroom?
Tools to support effective learning
Ensuring effective engagement
Reaching all groups of pupils
Staff engagement and CPD
Measuring impact – what evidence can you collect to ensure pupils are learning?
Online safety for staff, pupils and parents
How do you give feedback and how do you ensure this builds on pupils learning?
Learning across the curriculum

11am

22nd June 2020

Agenda

Introduction – Dominic Smart (2 mins)

Facilitator – Matthew Kleiner-Mann (5-10 mins per topic)