Art Challenge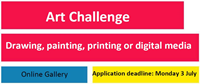 Art Challenge
Enfield Learns Together and the University of the Arts are running an Art Challenge which is aimed at children and young people aged 5-13. We are asking Enfield young artists to send us a picture of one piece of their 2-D art work (please remember NOT to include any images of young people in the picture) that addresses the theme of "inside".
All entries will be displayed on an online gallery.
Further details and an application form are attached to this page.
We look forward seeing your artwork.