Enfield Catering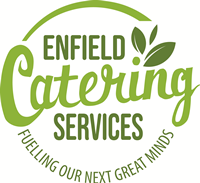 Dear Headteacher,
I wanted to write to write and share with you the steps that Enfield Catering have been doing in relation to Covid-19, what we will do when the children return to school, as well as some important information.
What has Enfield Catering been doing in relation to the COVID-19 outbreak?
As part of the Local Authority, we do not have the option to furlough our staff. However, we have ensured they have been busy and involved in supporting key workers by continuing to provide lunches for those children in schools, as well as other projects supporting Enfield's vulnerable residents. This includes:
Delivery of packed lunches for free school meal and key worker children. Initially, this was over 4,000 packed lunches prepared from four hub kitchens, this is ongoing with fewer packed lunches.
Sourcing food for the Council's "Enfield Stands Together" Hub, which has been providing food for the borough's vulnerable and shielded residents. Our staff have also been covering shifts over six days to help run this valuable service.
Providing hot food to residents via Age UK, and rough sleepers who are temporarily housed. The food is being prepared by our staff and from both Wilbury school kitchen and the Civic restaurant, over seven days a week.
Preparing hot lunches in schools where there is a higher number of children on site.
Launch of FSM vouchers. Several schools signed up for our vouchers for free school meal, or other vulnerable children. Our scheme has been commended by Sustain as it enables parents to spend cash in their local area.
Our staff are following guidance about self-isolation for those either with symptoms, as well as those who are required to self-isolate for their own protection. Head Office staff have the capacity to work remotely and support frontline operations.
Pupils returning to school
At this stage, we are unsure as to when and how our children will return to school. However, I want to reassure you that we are prepared for this and are ready to place our staff back into the school kitchens.
The welfare of school employees, our staff and our children are of paramount importance to us. Kitchen staff will be carefully rostered to reduce the number of people needed in the kitchens at any one time. They will all maintain social distancing and as we already adhere to best practice in our kitchens such as frequent hand washing and using alcohol-based cleaning products, the use of PPE is not required, unless new rules are issued by the government which we would then implement immediately.
School Meals
Clearly, social distancing and ensuring our children move around the school safely and as little as possible is a challenge. To help maintain this in schools, for the rest of the summer we are proposing a 'takeaway' school lunch where meals will be served to classrooms in takeaway containers with the packaging being fully recyclable. Currently we are still putting final preparations to this, but we are proposing a choice of either a sandwich or hot meal. We want to work with you and introduce a cook to order model to further reduce waste. We would also like to offer staff a complimentary meal as this will positively engage our children into adopting this new way of eating their lunch.
This will be done by staggering lunch serving times to again reduce the need of children leaving their classroom.
Packed Lunches
To avoid the spread of the virus we would actively encourage children avoid bringing their own packed lunches to school.
New Service Level Agreement
Primary and Special schools will have received the updated Service Level Agreement effective from 1st April 2020 to 31st March 2023. If you haven't already, please sign the acceptance form, and send via email as soon as possible to sts@enfield.gov.uk
Meal charges
Following on from Cheryl Headon's note about how the local authority will manage traded services, I am now able to share how Enfield Catering will be invoicing you during COVID-19.
As mentioned above, furloughing staff is not an option available to us. We wanted to fully digest what other school meal providers were doing as we want to be as fair as possible to schools and not profit from this terrible pandemic. For example, we know some of our competitors have furloughed staff and are still charging schools the value of the UIFSM money, some are going even further and charging both the UIFSM and FSM.
A decision was taken to only invoice schools part of the staff salary costs.
Therefore we will be invoicing schools using the below principles:
If you are a school that is receipt of UIFSM, will be invoicing for the monthly amount. We have worked this out based on dividing your yearly budget by twelve.
If you are not in receipt of UIFSM, will be invoicing for the monthly amount of your FSM allocation.
Between 20th March and the end of Summer term, we will be invoicing for £1 per meal consumed.
We strongly believe this is by far the most moral way forward as Enfield Catering will not profit from our schools.
We will be in contact later in the summer term to share with you our approach for September.
We very much hope everyone is keeping safe and well and look forward to meeting you again soon. For any queries, please feel free to send me an email to the address below.
With very best wishes,
Julia Dowsett
Schools' Food and Quality Manager
Enfield Catering Scheme
We are delighted to be teaming up with the Enfield Council Exchequer team and being the first borough in the country to launch a Free School Meal cash out offer.
Families will receive a text message or email from us, they simply visit a PayPoint outlet and to collect the funds.
This provides families greater flexibility on where to shop. The government announced earlier this week they would also fund this scheme.
If you would like more information or to sign up for this service please email sts@enfield.gov.uk.
Government Scheme
The Governement have now laucnhed a Free School Meal voucher scheme. Full details can be found here:https://www.gov.uk/government/news/voucher-scheme-launches-for-schools-providing-free-school-meals?utm_source=1e8e0f2f-de27-4ddc-8bb7-4c57b4725211&utm_medium=email&utm_campaign=govuk-notifications&utm_content=immediate
Below is the instructions on how to claim your vocuhers. This information has been taken form the above Goverment document.
How to order vouchers
You will be able to access the voucher scheme using the Edenred portal. Edenred will send schools an activation email, explaining how to access the portal and order vouchers. The email will be sent on Tuesday 31 March to the email address DfE holds for your school. If you have not received the email by Thursday 2 April, please check your 'junk' folder then email Edenred freeschoolmeals@edenred.co.uk.
Once you have activated your account on the Edenred portal, you can begin to create vouchers. Edenred will provide schools with a step-by-step guide to ordering vouchers through their online portal.
Firstly, you will need to confirm the value of the voucher(s). You will be able to:
order a single voucher to the value of £15 each week for every child eligible for benefits-related free school meals who is not attending school
set a weekly £15 rolling voucher
combine funding where a family has more than one child eligible for benefits-related free school meals
Once you have confirmed the voucher's value, you can either:
send an 'eCode' directly to the parent or carers of the pupils(s) eligible for free school meals - they will need to choose an eGift card from a range of supermarkets
select an eGift card on the parent or carer's behalf, and print and post the eGift card to them
The approach you can take will depend on parents and carers' ability to access the internet.
Sending eCodes to families
You can send a redemption eCode from the Edenred system directly to the parent or carers of the pupil(s) eligible for free school meals. They will receive instructions on how to use this eCode to create an eGift card, which the family should receive within 3 hours. You should only consider this approach if the family receiving the support has a working email account which they can access.