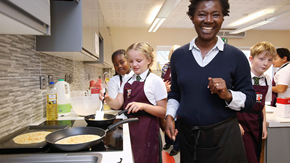 Description
The Service
The Educational Visits service assists schools and settings to manage their responsibilities, and those of the Local Authority for the health, safety and wellbeing of children and young people when engaged in off-site visits and activities. This includes the full spectrum of visits from those which are adjacent to the school to distant expeditions, including residential programmes, from low-key everyday provision to more challenging adventurous activities and visits overseas.
How
The purchase of this service supports the management and delivery of all 'Learning outside the Classroom' activities, including outdoor education, visits, and off-site activities. It also includes the use of Enfield documentation, EVOLVE software, associated approval and endorsement arrangements, together with related advice and access to generic documentation.
Schools and settings will be able to endorse their use of the above documentation and adopt equivalent procedures to those used by the Council.
Benefits
Use of Enfield documentation, including updates and generic documentation
Access to EVOLVE web-based system to manage and approve and endorse off-site visits and activities (The purchase of the EVOLVE licence fee is included in this subscription)
Specialist support and endorsement via EVOLVE for residential and overseas activities
E-mail and telephone support and advice provision of a model policy and other documents accessed via website
Packages
Primary with up to 100 pupils
Cost for MAT and chain schools: Based on total pupil numbers and the number of sites involved.
All-through school on one site with one Educational Visits Co-ordinator (EVC) would purchase the appropriate secondary subscription based on the total pupil numbers
Sign in for Pricing
Primary with 101 - 300 pupils
Cost for MAT and chain schools: Based on total pupil numbers and the number of sites involved.
All-through school on one site with one Educational Visits Co-ordinator (EVC) would purchase the appropriate secondary subscription based on the total pupil numbers
Sign in for Pricing
Primary with 301+ pupils
Cost for MAT and chain schools: Based on total pupil numbers and the number of sites involved.
All-through school on one site with one Educational Visits Co-ordinator (EVC) would purchase the appropriate secondary subscription based on the total pupil numbers
Sign in for Pricing
Secondary with up to 1800 pupils
Cost for MAT and chain schools: Based on total pupil numbers and the number of sites involved.
All-through school on one site with one Educational Visits Co-ordinator (EVC) would purchase the appropriate secondary subscription based on the total pupil numbers
Sign in for Pricing
Secondary with 1800+ pupils
Cost for MAT and chain schools: Based on total pupil numbers and the number of sites involved.
All-through school on one site with one Educational Visits Co-ordinator (EVC) would purchase the appropriate secondary subscription based on the total pupil numbers
Sign in for Pricing