Enfield 14-19 Enrichment & Post Funding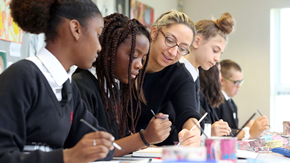 Description
This service delivers financial health checks and evaluations to Heads of sixth forms, performance analysis of post-16 study programmes and an enrichment programme to support progress and achievement.
It aims to:
Ensure schools are supported with up to date relevant data and reliable performance information relating to post-16 curriculums to inform any necessary curriculum discussions
Support schools to develop post-16 study programmes which allow for full and enriched timetables that will maximise the opportunities available to young people aiming to secure higher education or vocational pathways
Provide annual financial assessment to consider sixth form funding methodology and how it impacts on schools' resources
Support post-16 census checks to ensure compliance and completeness that expectations have been met
Provide regular updates to schools in relation to EFA funding, DfE updates (post 16 curriculum) and emerging opportunities relating to apprenticeships and other vocational pathways
Promote partnership working by co-ordinating termly meetings with all school sixth forms and invited stakeholders.
Benefits
The service is well placed to pull together a range of complementary LBE service areas to ensure the 14-19 phase of education is supported to provide a high quality, responsive service, meeting the needs of Enfield schools and pupils, with full consideration to affordability. The 14-19 team will support each school in a holistic manner, looking at developing enrichment programmes, responsive to individual career aspirations and current programmes of study, aimed at maximising learner performance, sixth form funding, employer engagement and securing positive destinations.
Costs
Price on Application