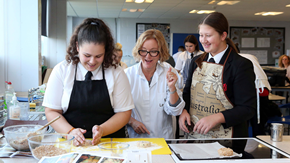 Description
This service delivers a high-quality careers education, information, advice and guidance (CEIAG) to pupils, educational establishments and providers.
The service aims to:
Ensure careers advice contributes to pupils' social mobility and economic prosperity
Inspire pupils to succeed and make the right decisions at key transition points throughout their education
Encourage and support pupils to set clear career goals, expectations and motivate them to achieve examination results which reflect their full potential and meet their individual goals
Enhance pupils' employability skills, economic resilience to maximise their personal and career potential
Assist performance in OFSTED inspections and supports key impact measures such as the Destination Measures
Benefits
The service has an excellent track record in providing a high quality, responsive service which meets the needs of Enfield schools and pupils and offers value for money. The key benefits listed below can be tailored to meet your individual school needs
Quality:
Longstanding and successful partnership working with schools and educational institutions in Enfield. We inspire students and deliver improved outcomes which support Higher Education achievement
Qualified and experienced specialist careers advisers to Level 6 (as recommended by the Careers Development Institute and the National Careers Council) for which evidence shows that face to face guidance benefits students in making successful transitions
Up to date information on Qualifications Frameworks and Pathways, Gatsby Benchmarks, Labour Market Information on careers, Skills Sectors, Higher Education and Finance
Matrix Accredited that requires continuous quality improvement. Performance Management model which includes regular monitoring and observation
Termly report and service evaluation as well as impact of delivery. Consultations with students in planning careers service work and review
Consistency:
Named careers adviser/s for each school/institution
Continuous service with members of our professional staff established in Enfield schools providing support to pupils including those with LDD (Learning Difficulties and Disabilities) and those vulnerable students who are at risk of not continuing in education
The service works with other departments to support and promote partnership working with local employers, universities work-based education and training providers
Enfield Careers Service website available to students, parents and carers.
Value for money:
The service offers great flexibility as with our local experience we will work closely with your school to develop a service model that reflects the needs of your pupils
Value for money based on knowledge of local market to meet local needs
Supporting young people to achieve economic prosperity and the motivation to improve their life chances through engagement with and access to opportunities through the service
Client Caseload Information System (CCIS) data provides customized statistical reports and intelligence on student and school profiles.
Packages
2 Days Per Week Term Time
2 Days Per Week Term Time
Sign in for Pricing
3 Days Per Week Term Time
3 Days Per Week Term Time
Sign in for Pricing
4 Days Per Week Term Time
4 Days Per Week Term Time
Sign in for Pricing
1 Day Per Week Term Time
1 Day Per Week Term Time
Sign in for Pricing
Bespoke Service
Bespoke - Priced Service Only
Sign in for Pricing