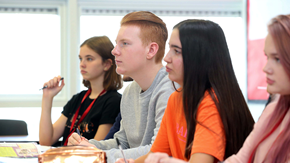 Description
The service provides schools and colleges with work experience, building links between businesses and education to deliver programmes for learners aged 14-19 years.The Enfield Work Experience Team work alongside the Progression & Pathways Team to offer a range of high quality services aimed at brokering links between schools and employers/businesses that enables 14-19 year-old learners to benefit from an experience of the work environment. The team will support young people to be better prepared, especially at 17 and 19 years for progression to further/higher education and employment.
The Enfield Work Experience Team works closely with other areas within the local authority to ensure the services offered are informed by discussions around the emerging employment growth sectors.
Benefits
Single point of contact for all queries relating to finding work experience and businesses into schools
An excellent track record in working collaboratively with schools, colleges, businesses and voluntary organisations to meet the needs to local communities and employers
An established database providing 3000+ local and national employers and voluntary organisations meeting local needs for work experience and employer engagement programmes, including specialist placements for LDD learners
Highly qualified staff in all aspects of health & safety, learning and progression to work
Pre-& Post 16 Work Experience
Enfield Council's Employer Engagement team offers a range of high quality services from finding employers to supporting work experience programmes, supporting employers to design and deliver relevant experiences, drawing up detailed specific placement descriptions post visit to providing resources and materials to aid the preparation of students for work-based learning.
| | | |
| --- | --- | --- |
| Type of Placement | Details | |
| A. Private | Employer new to our database | |
| B. Find Own | Employer found by the pupil already on our database | |
| C. Skills for work service | Employer sourced by the service | |
| D. Skills for work service | Post 16 block extended placement, sourced by the Service over 4-6 weeks | |
| E. Specialist supported work experience | Placement within the Service for LDD pupils | |
Packages
A - Private
Employer new to our database
Sign in for Pricing
B - Find Own
Employer found by the pupil already on our database
Sign in for Pricing
C - Sourced by Service
Employer sourced by the service
Sign in for Pricing
D - Post 16 Sourced by Service
Post 16 block extended placement, sourced by the Service over 4-6 weeks
Sign in for Pricing
E - Specialist within Service for LDD Pupils
Placement within the Service for LDD pupils
Sign in for Pricing