Primary Physical Education & School Sports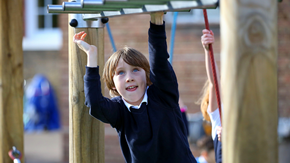 Description
This service consists of a team of physical education specialists who work collaboratively with schools to maintain and develop the highest standards in physical education, physical activity and school sport.
They provide the following professional development opportunities:
PE Subject Leadership Programme
TA's and HLTAs support
CPD programme for less confident teachers/TA's/Sports Coaches
Level 3 Dance
Level 5 Physical Education
Apprenticeship recruitment and training support
Safety in gymnastics and athletics
Play leaders and lunchtime assistants training
Early years physical development training
Sports coach training and mentoring
Support with behavioural management, physical and learning impairments
Advice and support in applying for School Games Award and AfPE Quality Mark
In addition, schools buying back into this service will enjoy:
Access into a wide range of sporting events, competitions*
Sffiliation to the Enfield Primary School Sport Association (EPSSA)
Entry into the annual dance, folk dance and gymnastics festival as well as local weekly park events, leagues, SEN events, KS1 and Yr 3&4 events.
Health and well-being opportunities – including support with The Daily Mile (or similar initiatives that help schools to achieve the Governments recommendation that schools deliver active 30 minutes every day) eg; assemblies, staff meetings and in-class support for teachers
Opportunities to train parents and governors
Sports coach quality assurance
Access to the Enfield physical education team documentation
Login to the Enfield physical education team website
Specialist health and safety advice and support
Specialist equipment advice
Ofsted preparation and support
Whole school development planning and review for PE , health and well-being, and school sport – including support with achieving the Sport Premium requirements
E-mail and telephone advice
*Some competitions have free access as these are organised through the School Games Programme, which is publicly funded (see calendar for clarification). The PE Team organise more events and festivals to enable as many children as possible to enjoy physical activity and school sport. The programme is far reaching, more than just catering for the talented.
Packages
Schools up to 99 pupils
Primary Schools
Sign in for Pricing
Schools with 100 - 400 pupils
Primary Schools
Sign in for Pricing
Schools with 401 or more pupils
Primary Schools
Sign in for Pricing