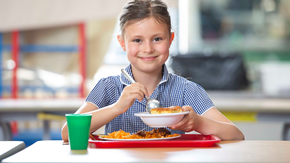 Description
Enfield Catering Services are an award-winning not-for-profit organisation specialising in education catering. We have over 50 years of experience looking after schools across the London Borough of Enfield. We are part of the local authority and all monies made are reinvested into the service to continually improve and elevate the provision.
We currently manage several school contracts which include a combination of local authority schools and academy trusts within the Borough of Enfield.
We are working with:
Special schools
Secondary schools
Primary schools
Enfield Catering Services also provide a school catering consultancy service. We cover a range of aspects including food safety, financial budgeting, recruitment and menu development.
We also provide breakfast and after school club catering and any hospitality/event provisions required by our schools.
Since 2020 we have relaunched the service with a fresh new approach to school food provision. We have since won Contract Caterer of the Year Award 2022 at the Public Sector Awards and were shortlisted for the MJ awards for Best Team 2022.
Our approach
Fresh Food
Our emphasis is fresh food - always. We will always provide food that is both nutritious and delicious. Our recipes are made using local high-quality raw ingredients lovingly prepared by our chefs.
We give our chefs the best raw produce so they can create innovative and great-tasting meals.
Management Approach
Enfield Catering Services believe in tasty food for life. Food represents so many things, it brings people together. It nourishes both the body and soul. This drives our management approach from the top down.
Our teams are productive and engaged with our values. We involve our team members in decision-making processes empowering them to take personal responsibility in their roles and enabling them to grow, adapt and take on feedback seamlessly. Our managers regularly visit our clients to meet with the school staff, talk to the chefs and catering teams and enjoy lunches with our customers.
Company culture
Enfield Catering Services have a strong positive culture led by the local authority's behaviour values.
be bold
make a difference
show you care
To deliver on our values:
we take responsibility
we are open, honest, and respectful
we listen and learn
we work together to find solutions
First and foremost, we want to make a difference to school food catering. We deliver a student-centred approach – our customers are our priority.
As a company we are keen to nurture a culture of open and honest communication, this applies equally to all our teams and staff. We focus on including our chefs in as much of the decision-making as possible as they make a large impact on their school community. Our people are important to the success of our company, and we invest in their training and development to ensure they understand how crucial their roles are.
We understand the importance of a good work-life balance and as such operate flexible and remote working policies for our operations team which allows us to be in your schools as much as possible.
Our ethos and mission
We are a not-for-profit organisation which enables us to operate in a value led way. We can therefore focus on what we deem most important – delivering high-quality lunches for your school. We do not work with any shareholders that we are financially accountable to, this means our budget work is focused on catering services in schools paying for themselves and any surplus generated is reinvested into the school.
Partnerships
We are proud to be the first local authority in the country to have partnered with Chefs in Schools.
Chefs in Schools is a not-for-profit charity with a mission. They want to encourage and enable schools to serve nutritious, creative food that is not only filling and delicious but will also feed children's imaginations too.
Chefs in Schools believe that transforming school food and education will in turn fuel the future. By encouraging the next generation to love real food and how to cook – they believe they can help the long-term physical and mental health of our children well into adulthood and we couldn't agree more.
Conclusion
We are extremely excited about this opportunity and hope we can bring our knowledge and most importantly good food to your table.
Our final thoughts…
"Feeding a large number of children a day is a huge responsibility and sadly we know that for some of these children it will be the only hot meal they have so our mission is simple – we want to make sure that each plate of food is the best it can be."