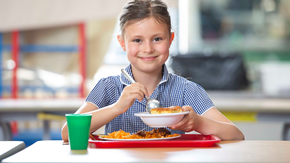 Description
Enfield Catering Services are part of the local authority; we know what it takes to ensure your school community receives a healthy, nutritious meal at lunchtime.
Our meals are made with fresh, tasty ingredients. Eating the right balance of healthy, delicious food helps everyone to learn and develop. Choosing a meal provided by Enfield Catering Services helps your students to try new foods and enjoy eating with their friends. Our school meals exceed the Government's Food Based Standards and contain the essential nutrients they need to grow and learn throughout their teenage years.
When developing our menus and recipes, we take care and pride in ensuring your students will enjoy the dishes we provide. Our recipes are curated by our team of Lead Chefs and inspired by their professional culinary journey.
As a proud holder of the Silver Food for Life Award, our menus include meat or fish using Red Tractor Farm Assured Meat or equivalent, and MSC Certified sustainably sourced fish. This ensures that all the meat within our recipes can be traced right back to the farm and either meet, or exceed, UK animal welfare standards.
Not only do we maximise the use of fresh vegetables in our meals, but wherever possible we use locally sourced produce. This not only ensures freshness but helps to reduce our carbon footprint to protect your pupil's future environment. We also use plant-based proteins to pack in all the taste and health benefits too.
With a choice of delicious meal options every day, vegetarian meals are always offered, and we always aim to meet and exceed requirements for the 14 allergens.
We are proud to be the first local authority in the country to have partnered with Chefs in Schools; a not-for-profit charity whose mission is to encourage and enable schools to serve great, creative school food that doesn't just fill young people up, but feeds their imagination too.
Chefs in Schools believe that teaching the next generation how to cook and enjoy real food is crucial for their long-term physical and mental health.
Enfield Catering Services will be working with Chefs in Schools to ensure your school enjoys all the benefits of this collaboration.
Enfield Catering Service has been looking after schools across the London Borough of Enfield.
Our talented team of expert chefs have made meals in 5-star restaurants and fed The Royal Family - the opportunities are endless.
During the last academic year, Enfield Catering supported schools in delivering edible gardens to get students involved in growing, picking and the cooking of fruits & vegetables.
We use a registered food safety consultancy company to advise Enfield Catering of how to not only meet, but exceed legal requirements, as well as auditing all Enfield Catering sites from a non-biased perspective.