SEND/Inclusion CPD Programme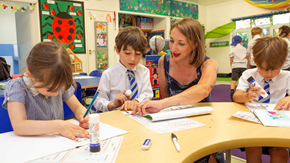 Description
The SEND/Inclusion Professional Learning Programme is developed by Enfield schools' trusted partners in the Local Authority. Training courses cover a broad range of special educational needs support and advice to support practitioners in developing their skills to meet the needs of children and young people who present with Special Educational Needs and/or disabilities.
All programmes are led by outstanding providers from within Enfield or other nationally endorsed experts within their SEND/Inclusion specialism.
This comprehensive programme is devised with local knowledge and aims to support school staff in responding to the challenges that practitioners face in their day to day work.
The PL Programme
The SEND/Inclusion CPD programme is designed to support school staff to meet the needs of pupils with SEND. Access to the programme will enable colleagues to fulfil school responsibilities under the SEND Code of Practice including its statutory elements.
What is included?
Schools will be able to access all published courses to be held online or in local venues. Schools may send a maximum of two attendees for any one course.
Occasionally additional charges may be levied to cover accreditation or training material costs e.g. Makaton. Where this is applicable, this will be clearly stated in the course details.
There will be opportunities for SENCOs to network with other local SENCOs at SENCO conferences and termly Inclusion Briefings will also be held.
Bespoke training specific to the needs of individual schools can be arranged.
Pay as you Go Costs
For schools who do not subscribe to the Professional Learning package the following charging guidelines will apply:
Most SEND/Inclusion and TA courses will be charged by the hour. Certain courses will be charged dependent on the associated costs. The course fee for every course will be published alongside the booking details.
Cost of online Professional Learning for schools when presenter is from an Enfield school or Enfield colleague
1 hour £30
1 ½ hours £40
2 hours £60
2 ½ hours £80
3 hours / ½ day £100
3 ½ hours £120
4 hours £140
6 hours / 1 day £220
Cost of face to face Professional Learning for schools when presenter is from an Enfield school or Enfield colleague
Half a day £125
Full day £250
Courses run over more than one session which be charged as total number of hours.
Packages
Send / Inclusion CPD Programme - 2023/2024
Please enter your pupil number from the October census in the Quantity box.