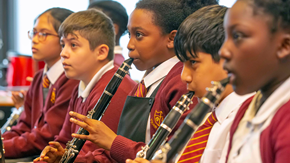 Description
Music has the capacity to change lives and can help children and young people to thrive by raising self-esteem, increasing concentration, developing social skills, generating a sense of community/belonging and improving mental health and wellbeing.
We work together with schools and a range of experienced partner organisations to offer quality-assured, engaging, inclusive music lessons and activities, giving children and young people of all backgrounds and abilities the chance to sing, learn an instrument, be creative, express themselves, and to make meaningful progression.
Instrumental & Vocal Tuition
Our team of high quality, experienced tutors deliver a range of individual and small group instrumental and vocal lessons as well as ensemble teaching on steel pans.
Whole Class Tuition
A great first access opportunity for children at KS2 to experience learning a musical instrument in a class ensemble setting and gain a thorough grounding in the basic elements of music.
Year Group Singing Programmes
Singing can be hugely beneficial for mental and social wellbeing and these termly singing programmes offer an opportunity for year groups to come together and sing once a week with our expert vocal leaders, working towards a celebration performance at the end of the term.
What we offer:
Free of charge
Curriculum guidance and support
Professional learning and networking
Singing resources
Music resource banks and recommendations
Participation in special events and performances
Access to workshops with Music Education Hub partners
Individual school music grant allocation
For EYFS/KS1
Songsack singing programmes
Partnership singing festivals
School-based music and singing clubs
Subsidised Charanga resources
Instrumental lessons (from Y2)
Tailored professional learning
For KS2
Songsack and Enfield Sings vocal programmes
Partnership singing festivals
Whole class instrumental programmes
School-based ensembles and choirs
Steel Pan tuition
Subsidised Charanga resources
Subsidised Inspire-works Studios Online resources
Instrumental lessons and hire
Tailored professional learning
For KS3/4/5
Choir and Ensemble Festivals
Vocal and Instrumental recitals
School-based ensembles and choirs
Steel Pan tuition
Instrumental and vocal lessons
Instrument hire
Subsidised Charanga VIP Studio Sessions resources
Subsidised Inspire-works Studios Online resources
For more information on the service and what it can do for your school setting, please press the Request for Quote button below.